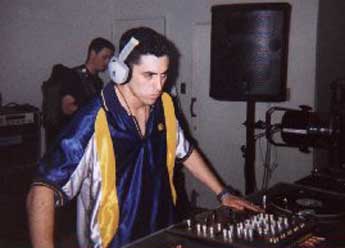 DJ Jelo is gaining more acclaim internationally, and has already played several shows in Taiwan recently, most notably the Masago Rave earlier this month. Check him out in Taoyuan (the venue is Ima) on Friday, October 27th and in Tainan (the venue is Fusion) on Saturday, October 28th for a sure to be kick ass Halloween show.
More about DJ Jelo and the Fusion Halloween Show:
The biggest Halloween party in the city will be located at Fusion
Groove Lounge this Saturday Night. Along with special gifts for
every single person wearing a costume, the night will also feature
the final Taiwan tour date for DJ Jelo.
Who is this DJ Jelo that everyone keeps talking about?
DJ Jelo
www.djjelo.com
Most of the DJs and promoters present at Masago agreed that Jelo was
the show stealer. As one of the most talented and experienced DJs in
Canada, Jelo has been at the forefront of the electronic music scene
for well over ten years. In 2005, his hard work and dedication
really started paying off after being hired as the in-house remixer
of Chris Smith Management. This landed him such high profile work
as mixing Nelly Furtado's latest CD, which is blowing up worldwide
at the moment. His newest remix of Nelly Furtado's "Promiscuous" can
be heard all over the radio and MTV at the moment. He has also just
remixed the new Timbaland and Furtado track, "Loose." His newest
track has also become the best selling ring tone in England and is
being licensed out to all the major club land CD compilations.
His fame has taken him worldwide and landed him such high profile
gigs as the main stage at both the 2005 and 2006 World Electronic
Music Festival in Miami. Jelo's brother from another mother, Donald
Glaude, regularly performs with Jelo at massive parties throughout
North America. Jelo's production work is incredible but what
really sets him apart from other producer/DJs is that long before he
ever wrote his first track, he was a talented, mixologist. His
energy on the decks is addictive as he bounces around screaming and
partying with his audiences. His records can be found in the crates
of the biggest DJs in the world including DJ Dan, Carl Cox, Anne
Savage and Chris Liberator to name a few.
The night will also feature:
Grant Stetski
www.grantstetski. com
DJ Ugly
DJ Dakar
MC Joe
The Fusion Girls
Door Price:
$400NT- Men with two drinks
$300NT- Women with two drinks